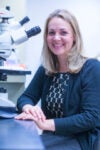 Harris, Tajie H.
Primary Appointment
Associate Professor, Neuroscience
Education
BS, Biology, Bemidji State University
PhD, Microbiology, University of Wisconsin-Madison
Postdoc, Immunoparasitology, University of Pennsylvania
Contact Information
MR-4, Room 6148, PO Box 801392
409 Lane Rd
Charlottesville, VA 22908
Telephone: 434-892-6916
Email: thh9t@virginia.edu
Website: https://med.virginia.edu/neuroscience/research/research/harris-lab/
Research Disciplines
Biophysics, Biotechnology, Immunology, Infectious Diseases/Biodefense, Microbiology, Neuroimmunology, Neuroscience
Research Interests
Immune response to infectious disease in the CNS
Research Description
Toxoplasma gondii is an intracellular, protozoan parasite that infects approximately one-third of the world population. The parasite can be acquired congenitally or in adults, through the ingestion of contaminated food or water. Acute infection with T. gondii leads to systemic disease that is largely controlled by the cytokine, IFN-g. Despite this, the parasite persists in several tissues, including the brain and retina, where an ongoing T cell-mediated immune response is necessary to limit parasite replication. The vast majority of infections are asymptomatic, but suppression of T cell function can lead to severe toxoplasmic encephalitis and/or retinochoroiditis. While the importance of T cells in controlling T. gondii in the brain and eye has been demonstrated, research in the Harris laboratory aims to identify factors within immune-privileged tissues that influence local resistance to T. gondii.

The Harris laboratory will use MP microscopy and other cutting-edge techniques to provide insight into the orchestration of local immune responses in the brain and retina. The laboratory is currently focusing on the role of microglia and macrophages in the control of infection in the brain. Several projects focus on the role of alarmins, which are molecules that are expressed by healthy cells and released into the tissue environment in response to aberrant death or damage.
Selected Publications